Our Fitness Trainers
Head Instructor: Nicholas Bramlage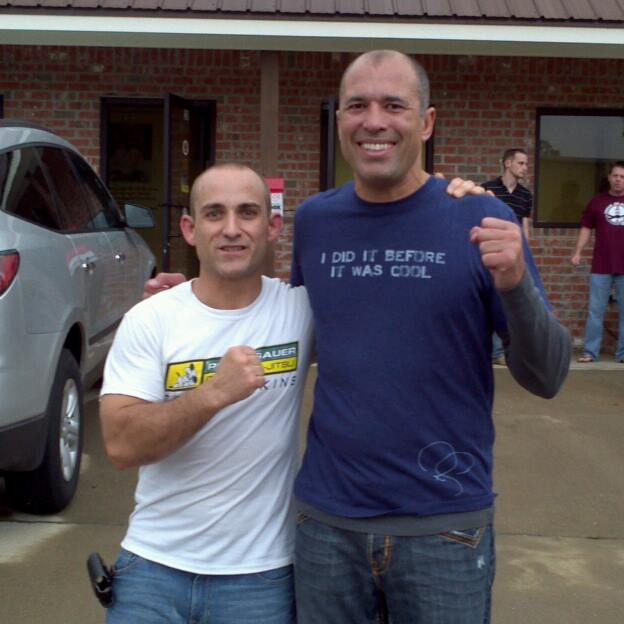 Studying martial arts builds the body, mind, and spirit. Head Instructor Nicholas Bramlage has over 16,000 hours of teaching and training in Traditional Gracie Jiu-Jitsu alone, not to mention training in other Martial Arts. While attending college in 2003, I had my first serious experience with the martial arts. Standing in the school gymnasium, I watched as a class of 10 students in a Hapkido club did striking drills. While I was standing there the teacher noticed me and invited me to join the class. Right away it was clear there was much to learn. After the first class I felt enlightened and empowered. For two years I was instructed in Hapkido. This is the martial art of the Korean military. Hapkido consisted mostly of kicking, punching, and wristlocks.
In 2005 the head instructor of the club moved away, and over time, the club dispersed. My trusted friend Tony Lambert was studying Gracie Jiu-Jitsu the entire time I was studying Hapkido. Tony was constantly trying to persuade me to join the school. I developed a strong loyalty to the Hapkido School through the years of disciplined classes and would not switch. When the school dispersed I had no choice, and Tony's wish came true.
In 2006, I enrolled at Gracie Jiu-Jitsu of Mississippi. I quickly learned that the striking skills I learned over the past few years needed to be combined with Gracie Jiu-Jitsu, in order to realistically defend myself in all situations. For the next seven years, I dedicated my entire life to Gracie Jiu-Jitsu, studying directly under Legend and Master Pedro Sauer's Technical Director, Professor Allen Hopkins. I completed college majoring in Business Administration and minoring in Chemistry while training 30 to 40 hours a week of Gracie Jiu-Jitsu.
After graduating, I worked at the school teaching kids and adult classes, women's and men's Self Defense classes, and handling other various administrative projects. While doing all this, I still managed to train thirty hours a week at Gracie Jiu-Jitsu. Gracie Jiu-Jitsu and martial arts have given me the courage, self-esteem, and confidence to face any situation in life. They have given me the ability to act rather than panic when faced with fear in any situation. This has enabled me to stand up for the ideas I believe in, as well as defend myself physically.
Over the years of my martial arts career, I have participated in fights and tournaments and been able to win at both. More rewarding than the fights and tournaments has been the mental victories in the area of self-actualization, where I have learned that health and happiness are the most important trophies of the martial arts, not gold, silver, bronze, and money. It is also important to learn how to maintain the trophies of health and happiness regardless of what situations arise in life. More rewarding still is the satisfaction of teaching what I know to others and seeing it help them in their lives. The most rewarding of all is the joy of seeing my students teaching and helping other people to find this healthy and happy way of life.
I learned from the best on the planet. My lineage is straight from the creator of Gracie Jiu-Jitsu Grandmaster Helio; passed on to Master Pedro Sauer, Rickson Gracie's Childhood friend and one of the first Brazilians to master Gracie Jiu-jitsu; passed on to Professor Allen Hopkins one of the first Americans to earn a Gracie Jiu-jitsu Black Belt and the technical director of Master Sauer's Association. All of this combined knowledge and that of the numerous other Jiu-jitsu Legends I have studied with, Grandmaster Relson Gracie, Grandmaster Alvaro Berreto, Master Royce Gracie, Professor Kid Peligro, Chad Pittman, John Blanchi, Allen Baker, Matt Strack, Paul Sizemore, Mike Diaz, Professor Todd Wheeler, Billy Dowey, Jason Culbreth, Brian Clark, Professor Shaun Weaver, Jorge Jimenez and many more, I share openly with all my students. I teach my students to be the best at whatever they want to do, from MMA, Sport Jiu-jitsu, No Rules Fighting (Vale Tudo), and Self Defense, to living a happy and healthy lifestyle through safe, fun, exciting, and dynamic exercise. I am Associated, Affiliated, and Certified to teach all of the skill sets I have described.